This evening we had my mommy over for dinner. I cooked a really quick and easy item -- Chicken Breast in Shake 'N Bake, then after that is done you add salsa and cheese, place it back in the oven to melt, mmmm mmm good! Oh and as a side dish just two of those Uncle Ben 2 minute in the microwave dishes. For dessert, home-made brownies. Can't go wrong with a meal like that eh? lol Afterwards we went outside to show her the house foundation Bob had dug up: SEE HERE

So, by now you must know I really love the Beatle's Yellow Submarine.

For a Birthday Gift I was given this large beautiful photo frame from very good family friends, Julie, Bill, Sarah & Emma. We were actually going to fill it with photo's of Bob and I through the years of dating but I haven't gotten around to actually sitting down going through all the photo's and then sending a request off to Walmart to be printed out, not to mention the fact that we are a little strapped for cash.

Tonight I got this wonderful idea to use these Yellow Submarine collectors cards that I had and place them in the photo frame. When I did this and brought it into the bedroom I realized that they sort of match the colours in the fabric of the curtains Bob is going to make for the bedroom. WOOOOOOOOOOOO looks like I'm going to get my wonderful colourful bedroom afterall!!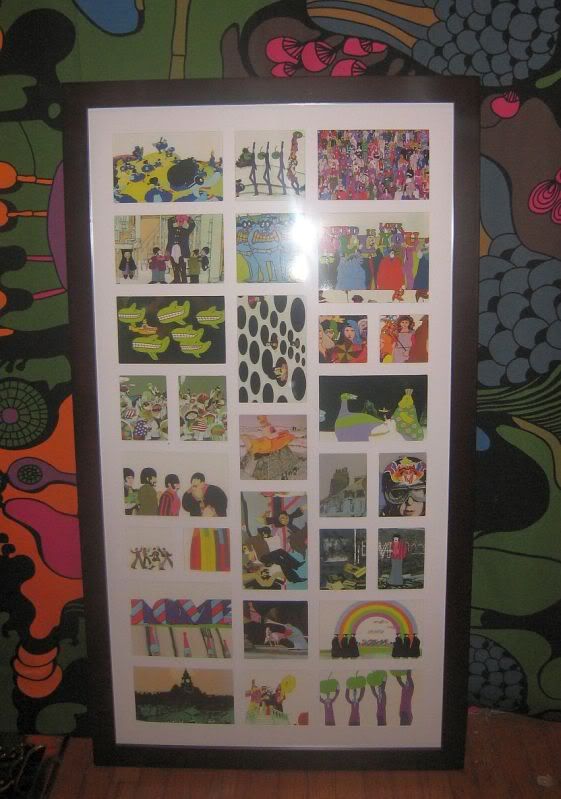 Last week Bob and I went to EB Games and traded in some of our older games and receive a nice credit. We couldn't leave the store without purchasing a couple of games. We started to play the Batman Game together which was fun -- little Lego Batman and Robin running around. Bully on the other hand is adictive. LOL It's funny, because I don't think as Bob or I as mean people, and in the Bully you obviously are playing the part of someone who is bullied or is a bully. We are just too nice to be Bullies. But secretly it is bringing back the past.... you see, in public school I was bullied, not fun. Glad I'm older now. :o) THIS GAME IS DEFINATELY not for younger kids.